Blue Screen of Death (BSOD) Repair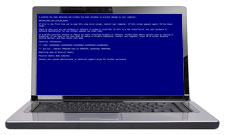 One of the scariest issues you can come across when using your computer is when it crashes. Most often, this results in getting the infamous "Blue Screen of Death," also referred to as "BSOD." There can be various issues with your computer that can lead to the Blue Screen of Death (BSOD). In many circumstances, once you get a Blue Screen of Death, your computer may no longer boot. This means that you most likely will not be able to access your files. It is crucial at this point that you contact us as quickly as possible to ensure that your data can be recovered from your computer. When you call us, our primary task is to first make sure that your data is retrievable. Once your data is found, we then do a full backup of your important files. At this point, we then seek to find the cause of the blue screen, and then provide you with the appropriate repair. Our experienced technicians ensure the right solution to the problem so that it doesn't occur again, and you get fully functional and optimally performing computers.
Turnaround Time
We understand that most people cannot be without their computer for a long period of time and that is why our team of expert technicians will quickly analyze your computer and have the repairs completed promptly. Our services often are completed by the next day! We work extremely hard to give you quality services and quick delivery at an affordable cost.
FREE Pickup And Delivery
Our free pickup and delivery service is provided to all of our customers! Enjoy a hassle-free service experience as our technicians will pick up your computer from your location, deliver it after it is fixed, and set it back up for you. In some cases, we can provide on-site repairs, however this entirely depends on the servicing requirements of your computer. Call us today for a free estimate at (845) 228-8226.