Data Recovery Services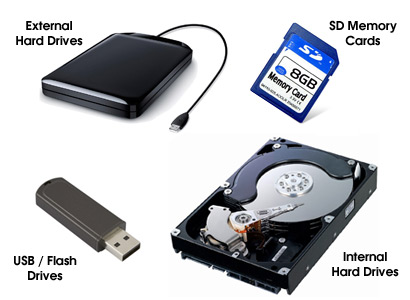 It can be quite a catastrophe when your computer crashes or your hard drive dies and you realize that you do not have a backup of your files. Unfortunately, in many cases people tend to neglect backing up their data and do not realize the risk that they are taking by doing so. In the event that you are faced with the inability to access your data, data recovery is your only potential solution. It is not recommended to attempt to recover data from your hard drive or device if you are inexperienced with doing so.
We take data recovery very seriously, as we understand that your personal, important files are involved and at risk of being lost. We offer data recovery services at a fraction of the cost of many other data recovery facilities.
Signs That You Might Need Data Recovery
Your computer (hard drive) is making strange noises, such as: clicking, beeping, clunking, scratching, etc.
Your computer is constantly freezing and/or getting the blue screen of death (BSOD) and you cannot access your files
You can see your files, but you cannot open them
You attempt to boot up your computer and you get a S.M.A.R.T. hard disk error
You attempt to boot up your computer and you get a general disk read error
Types Of Storage We Can Recover Data From
• Internal Hard Drives
• External Hard Drives
• USB / Flash Drives
• SD Cards
FREE Pickup And Delivery
Our free pickup and delivery service is provided to all of our customers! Enjoy a hassle-free service experience as our technicians will pick up your computer from your location, deliver it after it is fixed, and set it back up for you. In some cases, we can provide on-site repairs, however this entirely depends on the servicing requirements of your computer. Call us today for a free estimate at (845) 228-8226.