Virus Removal Services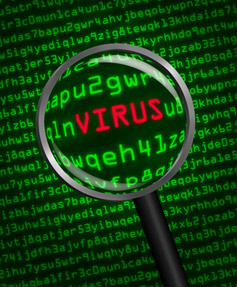 The Internet world is full of viruses, malware, spyware, Trojans and other malicious scripts. Viruses and other malicious codes are typically created with foul intentions such as stealing credit card numbers, social security numbers and/or other personal information. When your computer is infected with a virus or any type of malicious file it is not advisable to use the infected computer because of the involved risk of and phishing attacks and file deletion.
Sometimes, corrupt file systems can create the perception of virus infections while on occasions, various malicious codes may be causing the system corruption. The virus infections can go undetected for many days, and you may not be very certain whether your computer is actually infected by any virus or not. You might experience the following symptoms in case your computer gets infected with any malicious code:
Your programs have started malfunctioning.
Your computer has become very slow for no apparent reason.
Your Internet has become very slow and seems to freeze.
Your computer often freezes or "locks up."
An anti-virus program you never installed is showing warning messages.
The anti-virus program has crashed or disabled without any reason.
Your computer has started crashing or rebooting.
You are unable to print properly.
Any unknown program has delivered unusual messages.
There may be many other symptoms that are a result of viruses and other malicious files.
Virus infections create very serious security issues, particularly if your valuable files or information is stolen or deleted. You should immediately contact us if you are facing any symptoms described above. The malicious codes have to be removed from your computer to safeguard your privacy and security. These harmful programs can aggravate your problems if they are ignored and remain unresolved for long periods.
Turnaround Time
Our virus and malicious code removal services are normally provided on a same day or next day basis. Our customers can enjoy the our FREE pickup and delivery service, which is included with all of our computer services! You will have a hassle-free service experience as our technicians will pick up your computer from your home or office and deliver it back to you after removing the viruses and other malicious files. Depending on the severity of infection, our technicians may provide on-site virus removal to your satisfaction. Call us today at (845) 228-8226 to have viruses removed from your computer(s) and get them back up and running faster than ever before!